Exchange of old and new
Where the past greets the future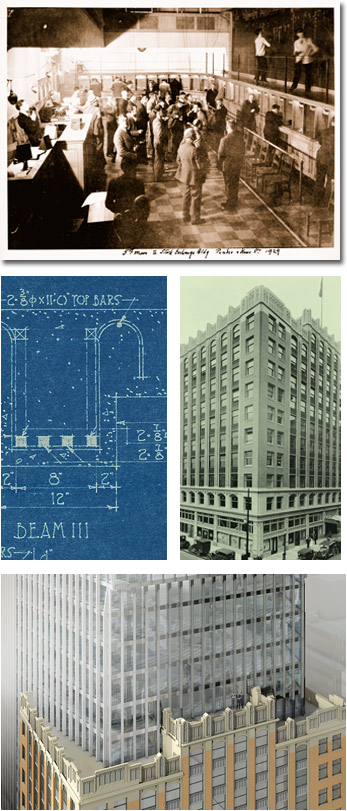 The Old Stock Exchange's striking use of a variety of materials – and eclectic approach to architecture common in the Edwardian era – inspired a bold solution to engineering, economic and environmental challenges in the new building.
The building was Vancouver's first modern stock exchange, opening in 1929. The Exchange will retain the shell of the Old Stock Exchange building, including many notable features from its days as a traditional 'open-outcry' trading floor.
The original structure was conceived by Townley, Matheson & Partners (1919-1974), a major Vancouver architectural firm throughout most of the 20th century. The partnership created over 1100 designs, most notably Vancouver City Hall.
The Stock Exchange Building, also known as the Crown Trust Building, opened in 1929. Its Modernist/Gothic exterior was echoed in a barrel vault lobby, featuring heraldry and other symbols of medieval England.
The building is listed on the Vancouver Heritage Register in the A Category for "its contribution to the development of downtown Vancouver, its architectural expression, the role of its prominent designers and its representation of the business community in the city."
The new design conserves the best of the old structure — while bringing standards of sustainability, efficiency and comfort into the 21st century.