Swiss Style on the West Coast
The Pinstripe Principle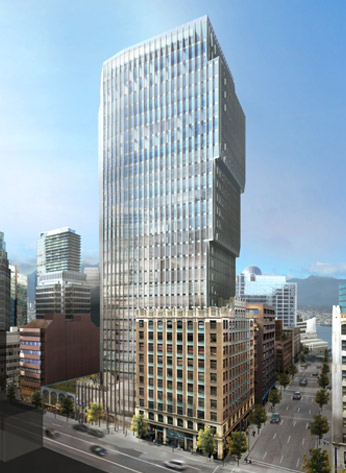 The Pinstripe Principle defines the design of The Exchange. The pinstripes themselves are aluminum louvres – beginning at ground level of the new building and stretching skywards above the original Edwardian building – creating a seamless integration of the two structures. The building will be Vancouver's first LEED Platinum heritage conversion, a collaboration between Iredale Group Architecture and Harry Gugger Studio.



Iredale Group Architecture – thoroughly West Coast

Lead architect Iredale Group Architecture provides consulting services throughout Canada. Projects include cultural, First Nations, educational, commercial and residential facilities. Iredale Group is dedicated to designing community places that incorporate sustainable design principles.




Harry Gugger Studio – Swiss style

Harry Gugger established his studio in May 2010, after 19 years of partnership at Herzog de Meuron. Drawing from the conclusions of this experience, Harry Gugger Studio (HGS) emphasizes the singularity of each project, exploring its research potential in close collaboration with clients.